​
Beirut's Municipal Elections 2016
It is no surprise that the municipal elections in Beirut have received the greatest share of coverage. Besides being the capital city, Beirut is a sectarian and political mosaic where the Sunni are a majority and the Future Movement is a significant force. The voter turnout and the voting trends by sect have been the main focus of attention given the political and sectarian indications they convey.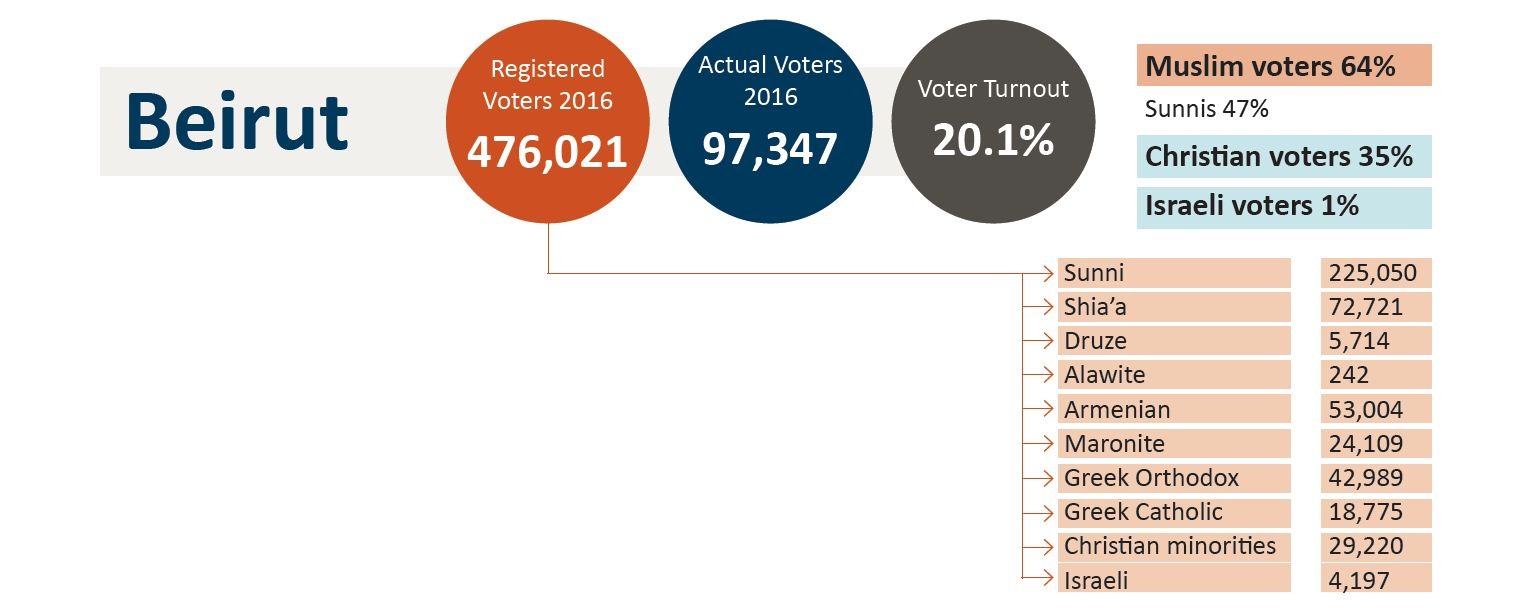 Voter turnout stood at 20.1% this year compared to 18.1% in 2010 and 24% in 2004. Therefore, the low participation rate was nothing new on the electoral scene of the city. Abstention was attributed to several reasons foremost of which was the absence of real competition, as the Beirutis List (coalition comprising the Future Movement, the Amal Movement, the Free Patriotic Movement, the Lebanese Forces, the Phalanges Party, the Tashnag and the Armenian parties) was not running against a politically-backed rival but against Beirut Madinati, a list representing and supported by the civil society.

The Beirutis List bagged an average of 6,432 votes equaling 35.2% of the total votes in the district. However, Beirut Madinati surpassed its rival by winning an average of 9,082 votes or approximately 50% of the vote.
The inclination of Christian voters to support Beirut Madinati did not apply to Armenian voters as well, as 77% of those voted for the Beirutis List while only 14% favored Beirut Madinati.
Sect
Beirutis
List
Beirut Madinati
Maronite
28%
59%
Greek Orthodox
23%
59%
Greek Catholic
27%
60%

The Beirutis List secured 8942 votes or approximately 49% of the total vote while Beirut Madinati amassed 4150 equaling 22%. The Beirutis List received 76% of the Armenian votes and 42% of the Sunni ones. Beirut Madinati's share of Sunni votes was only 16%. Beirut Madinati gained greater support than the Beirutis List among Shia'a voters, gaining 33% of the total vote against 20% for its rival.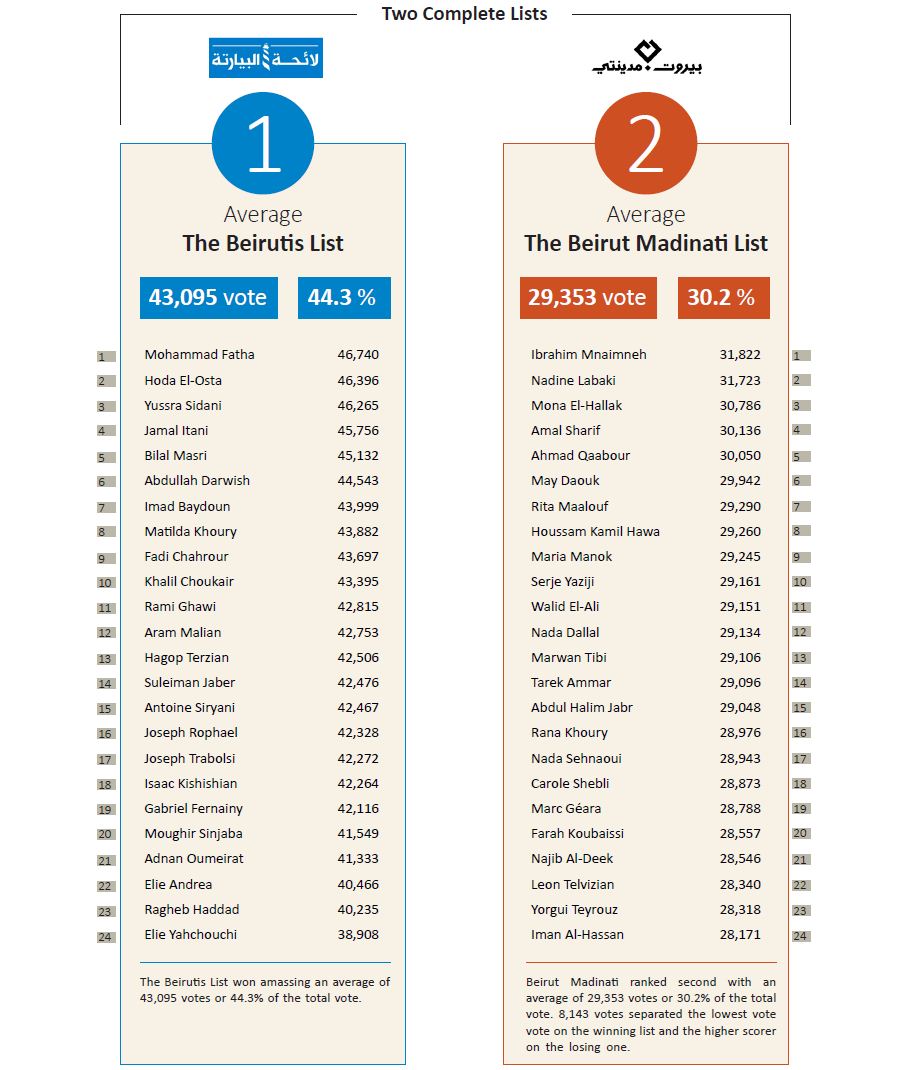 The Beirutis List obtained an average of 27,782 (46%) votes against 16,194 (26.6%) for Beirut Madinati.
The Beirutis List attracted 51% of the Sunni vote (an average of 24,684 votes) and 18% of the Shia'a vote (an average of 887 votes) while Beirut Madinati secured 50% of the latter, equaling an average of 2,475 votes.
However, Beirut Madinati ranked first among Greek Orthodox voters, amassing 66.5% of their votes (1,777 votes) against 20% (524 votes) for the Beirutis List.